Top Caps
The single flue masonry chimney top cap is designed to fasten directly to your clay flue tile liner at the top or your chimney. The chimney cap sits on top of your flue tile, and the base is fastened with pressure screws to the clay flue tile. Top caps help: eliminate moisture damage, prevent bird and animal invasion, protect against airborne embers and sparks, and guard against flue blockage.
Dampers

A damper seals your chimney when not in use. Heat rises, and if the chimney is not sealed when the fireplace is not in use, all the heat in the house goes up the chimney. Operating the normal damper that comes with a chimney can be a hard and dirty task. The "Ice Breaker" top-sealig damper can help. It is easy to use, convenient, and clean. It will actually seal the fireplace when it's not in use and decrease your heating bills for the winter months.
Clay Pots
Chimney pots are terra cotta pots that sit atop a chimney. They can be round, square, octagonal, or rectangular, but in all cases, they are open at the bottom, where they attach to the chimney and open or vented at the top. Their tapered shape allows them to perform the important function of improving fireplace draft, and many people still buy chimney pots for that reason. But more often today, chimney pots are used as an exterior accent to add character and beauty to fine homes and buildings. Think accessorizing, but for your house.
Our Before & After Photos
Featured Suppliers

For Chimney Top Caps, we use Gelco
---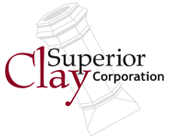 For Clay Pots, we use Superior Clay